A Buddhist workout: young monks chop firewood in Bhutan's remote Phobjika Valley. Gangtey.
Hidden behind a cloud of midst, Taksang, Bhutan's revered pilgrimage site, appears as just another spec of snow resting on the mountains surrounding the Paro valley. Kichu.
Sister and housekeeper of the Lhakhang Karpo temple. Haa Valley.
Festival goers queue up for a chance to receive a blessing from a rimpoche and to grab a sunki, a colored blessed thread to wrap around the neck during Paro Tsechu. Paro.
Haa Valley vs. Paro Valley. Football Final. 2,670 meters.
A late snow fall on the Himalayan peaks. Spring, Paro Valley.
Partygoers dance inside a local nightclub. Bhutan's government have attempted to strictly enforce a nationwide ban on smoking in public places, however at most local bars and pubs, the rules have been amended to serve customer's demands. Punakha..
Archers enjoy a victory dance after hitting the bullseye during a weekend match. Bhutan's national sport,
dha
, requires that its players wear a
gho
, the national dress; however footwear is up to the archer's discretion. In this Himalayan version of the sport, the targets are set 140 meters apart -- nearly 3 times the length of the Olympic standard. Paro,
Tour guide Jigme makes his way through a spring blizzard at Bumdra, a yak herder's camp at around 4,000 meters in Paro. Wearing his national dress - the gho - Jigme was ill prepared for the weather. Paro.
A novice monk memorizes daily mantras outside Chumpu
Nye,
also referred to as the Floating Goddess Temple. Chumpu.
Heavy monsoon rains drain into the muddy waters of the Punakha River. Punakha.
Monks prepare for a masked dance at the first annual Peling Tsechu in the country's capital. Thimphu.
Entering the main temple of Kila Goempa. Chele La.
Practicing archery, Bhutan's national sport on a spring day. Bumthang.
A young girl searches through a crowded audience during a trance dance performance at the annual Paro Tsechu festival. Paro.
Crowds gather for an annual military festival, an event shared by the Indian and Bhutanese armed forces. Haa Valley.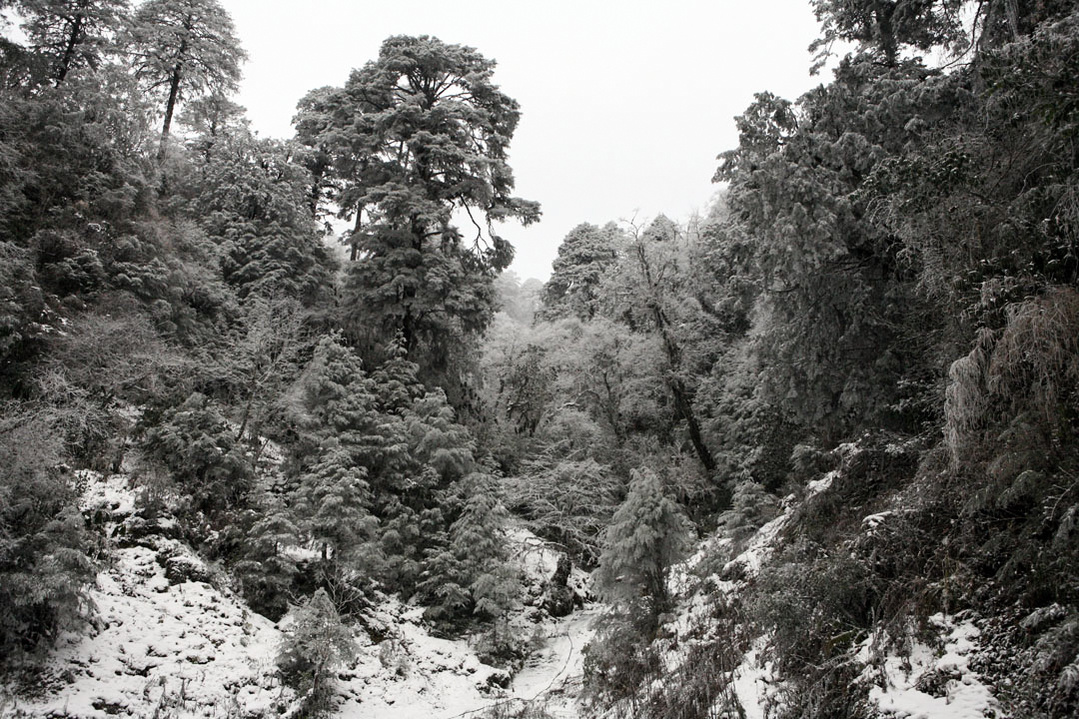 In the winter season, roads are lined with ice and snow, an inevitable recipe for disaster for speeding Indian and Bhutanese hydropower trucks. Dochula Pass. Paro.
Ugyen and Namda warm up together inside their family's newly constructed traditional hot stone bathhouse. Ringpung, Paro.
Local residents share a laugh before festivities celebrating the 36th birthday of their "Dragon King" Jigme Khesar Namgyel Wangchuck begin at the capital's national stadium. Thimphu
Youths start a snowball fight inside the remains of the ancient Drugyel fortress. As soon as the first flakes of snow hit the ground each year, the government declares it a national holiday - allowing workers time to leave the office to enjoy the first day of powder. Drugyel.
Rinpung Dzong monks enjoy the gym facilities at the luxury resort, Uma Paro. Paro.
A horseman leads his animals to a resting point for the night. Bumdra Camp.
A boy carries firewood by strapping two pieces of cloth to his back for his home bukhari, or Bhutanese fireplace. Chuzom.
Nature loop in the Phobjika valley. Gangtey.
Yatra, shawls made from yak wool, are seen on display at the Yathra Centre. Bumthang.
Youngsters soak in a popular sulfuric hot spring that is believed to cure both physical and spiritual ailments. Punakha.
In addition to their Buddhist studies, the nuns of Kila Goempa receive a lesson in carpentry as the monastery undergoes a facelift. Chele La.
Llama Neten, head of the valley's monastic body, performs a long life puja. Paro.
Civil servants and monks walk inside Pungtang Dechen Photrang Dzong, the administrative and monastic center of the valley. Punakha.
In Bhutan, spicy chilies star as the main ingredient in most curries. Cooking over a campfire. Punakha.
A young girl adjusts the sleeves of her national dress as she exits Rinpung Dzong. Paro.
Traditional homes peek through pines in the Bumthang valley.
Young anims walk through the courtyard of the Pema Choling Nunnery nunnery in Bumthang.